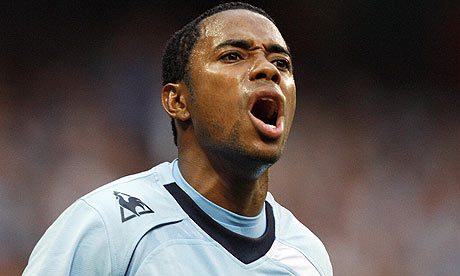 So we started 2009 looking over our shoulders somewhat, as did perhaps everyone outside the top six, truth be told. Our first fixture of the calender year was a nice easy home FA Cup tie against the now-shite Notts Forest, only we somehow managed to get tonked. They played very well, i wouldn't deny it, the scoreline flattered us if anything, but they had a lot of help. In any fashion, it was a shock result, and a very unnecessary and unexplainable one. It was at this time of the season that the 'Hughes Out' camp seemed most vocal, and understandably so, i guess. We've been on the wrong end of enough upsets over the years to know that they can happen, but 0-3, at home, with near-enough a full side on show (and with new £10m left-back Wayne Bridge sat in the stands), against a poor Championship team, it was shocking.
To be fair to the players, we did follow this appalling result up with a run of home victories, albeit either side of a horrendous away showing at Stoke, who kicked us to death, got a goal and went on to play ten men behind the ball to the finish. For me, these three home games were the first time that campaign that we saw Hughes' ideals on the pitch. It's probably fair to say we were lucky in all three. Firstly Wigan; a game where Richard Dunne picked up his eighth red card at the club, the then in-form Amr Zaki outrageously missed an open goal, Newcastle, where we were much the better side but could've quite easily kicked ourselves up the arses late on, and Boro, where new signing Shay Given immediately won the appreciation of the crowd by foiling Afonso Alves with regularity. Indeed, it was another new signing in Craig Bellamy that had scored the winner in the last two of those fixtures. All three, though, were tough games which just went our way, and rather than being either brilliant and winning well or woeful and losing again we at last seemed to have an edge, at least for the meantime, playing averagely on all three occasions but picking up nine much-needed points. Nige de Jong arrives from Hamburg, Hughes' 'just keep adding defensive midfielders' plan takes shape. Some huer falsely accuses Robinho of molesting her (funnily enough the highest-paid of our players there that night). What offended us most of all was the fact that three players who we're probably paying a million quid a month between them chose to knock about in a dingy student disco in Leeds, ffs, bit of class, lads, eh?!
The good run didn't last, of course. As with most seasons, but this moreso, we constantly managed to follow up a small patch of form with an abject display. Pompey away and we were back to our old tricks, spineless, no cutting edge, all over the place. The press were on the backs of the Brazilians, completely their fault in their eyes, no other explanation. Thankfully we manage to play through the Danish snow to grab a draw in Copenhagen, part in thanks to an absolute net-breaker from Ned, who ran the length of the pitch before putting just enough pace & swerve on his crisp effort to flummox the 'keeper. To dwell on our horrific defending from set-pieces in the very same game would take the shine of Ned's Goal of the Season contender, so i shan't bother. We go to Anfield and outplay the Bin Dippers for large parts of the game and pick up a good point, then finish the Danes off at fortress Eastlands, Bellamy steps up to the plate, getting all the goals (later having one taken off him by the weirdo's at the Dubious Goals Committee) and all after he and our record buy allegedly had words just a couple of weeks earlier.
We continue to stumble through games, doing everything bar scoring in a defeat at Upton Park, dispatching of Villa, and comfortably beating another poor European side, Aalborg, in the first leg of another round of the much-maligned UEFA Cup. Chelsea threaten to score ten against us at Stamford Bridge but in the end settle for one in what must've in a strange way been their easiest game of the season. Former West Ham manager Alan Pardew later has his hands slapped for implying Michael Essien may've assaulted Chedwyn Evans with his manhood. The return against Aalborg is uneventful for 85 minutes, the typical Channel 5 game, Pat Nevin's nasal tones the only thing stopping most of us from nodding off. We of course manage to concede two late goals, beating them on penalties. Never in doubt, really. Our name's on the trophy, we all agree!
Martin Jol's Hamburg are our opposition in the quarter-finals of Europe. I was never really expecting us beat them on their own patch, but after a Superman goal inside a minute (and not just any goal, a real Colin Bell-like effort in which he seems to whip a ball out to Robinho, make up fifty yards and arrive just in time for the return pass) we suddenly have half a chance. They end up mullering us, Micah, head still up arse, gives away another pen, but all is not lost, all we have to do is not concede a third, that's it. We can't manage it. The following Sunday the inevitable 'after the Lord Mayor's Show' performance is realised, a 1-3 beasting at home by Roy Hodgson's well-organised Fulham, who would go on to claim seventh place. Looking back, this was a huge game for us. The six-point swing there really cost us another season of European football, but perhaps that's a blessing, we'll see.
The return against the Germans remains my favourite game at Eastlands, perhaps watching the club. Like many Blues we enjoyed a few local alehouses beforehand, a turnout of a few hundred supporters, some from the opposition, congregated in Shambles Square and sang and drunk their hearts out. The pubs managed to run out of ale, it didn't really matter. By the time we arrived at the ground it was buzzing, once inside even moreso. It's perhaps a fair criticism that noise levels at new stadiums can suffer, not that night, it was quite easily the best i've ever witnessed at an English ground, everyone singing their hearts out, it was truly immense. We played exceptionally well, too, but sadly came up just short. It was disappointing, i really thought we could win the thing, but i guess there'll be other years. In a sense i was glad for Hamburg. If anyone was to beat us it might aswell as have been them; nice manager, good side, hospitable supporters, just a shame our luck rubbed off on them actually, out next round! I remember feeling at the time, though, that despite us bowing out of the competition, it was the night that a lot of the fence-sitters maybe changed their minds regards the manager. The mood after that night certainly seemed improved overall, and one of optimism.
Anyhow, the final six games left us a slim chance of snatching seventh place, and we assumed at the time, perhaps a little optimistically, that four wins out of six might do it. We manage to beat West Brom 4-2 at home despite being absolutely battered for pretty much the entire ninety minutes. The game also marks what will almost certainly prove to be Danny Sturridge's last goal for the club, and one he fails to celebrate. We then somehow manage to pull off a great result at Goodison Park against an Everton side who in truth may have had one eye on the cup final. Whatever the truth in that we run them ragged, Robinho and Ireland linking up fabulously again. In the end Fulham only drop 5 of 21 points and manage it with some degree of comfort, and a disappointing defeat at White Hart Lane, where we play well for the entire second period but again suffer an injustice there, our hopes are up the swanny. Bolton make the short journey to CoMS for the final day, where the highlight is a six-minute cameo from a Brazilian defender whose name we've already almost forgot.
All things done it must be considered a mixed season. At the start of it, pre-takeover, our ambitions would've probably been to better last year, grab a UEFA Cup place if possible, perhaps do well in a cup competition. To a certain extent we weren't to far away from realising that, but the signings during the season should've probably pushed us on a little further, and there's no denying that away from home we were largely awful. It really was, for the most part, a season of extremes, both on the pitch and off it. To sometimes play excellent, pass-and-move football, then go away from home and be barely able to string three passes together, or tackle, or play to any kind of system whatsoever, well, it was quite perplexing. In any plan, though, and i do believe we have one, there have to be 'sideways' seasons, ones where a manager can weigh up his squad, move on those he doesn't fancy, bring in his own people, try a few systems out and basically lay some solid foundations for the future. I think Hughes has done that. The signings he's made have all been good, and i can see that we're assembling a squad of players with the right work ethic.
The black and white of it is we finished tenth and won nothing, but i think that's misleading, to a certain extent, we were very close to qualifying for Europe again and extremely unfortunate to not progress further in the UEFA Cup, and we should perhaps take a little encouragement from that. The domestic cup defeats were ridiculous, as was Premier League form away from Eastlands, but hopefully we'll have more of a 'team' next season, as opposed to a load of players lumped together. In truth, we have to vastly improve. The chairman has said that top six is the aim, i've a hunch that they might expect a little more than that. If the players being talked about do arrive, and we've spent another £100m+, we must be looking to get as close to the 'Big Four' as possible, 5th at the very least.
As a fan there's probably never been a better time to follow City; a great stadium, tremendously wealthy owners, a promising young manager, a quickly-improving squad. Everything's geared for take-off, it really is. I just hope that for once we don't absolutely bollocks something up. Whatever the outcome, we shouldn't forget that we've come a hell of a long way in a relatively short space of time, and i'm not talking about the time under the new owners here. Only a few seasons ago we were in what's now League One. Even as recent as two or three back we were said to be in debt to the tune of £100m, were hardly making cash buys and were enduring Pearce's anti-football. We're not going to suddenly transform into title-winners, we might never, but the fact that we're being linked with some of the world's best players, even just stable in the division is progress in itself, and enough for now. We need to be realistic, make noticable progress each season, gradually improve and maybe, just maybe, somewhere down the line we might not be bloody hopeless!